This event is in the past, we just leave it here for entertainment purpose only …..
Summer happenings are here, too bad this one is in Auburn Washington, but wait! we will get you there for reasonable price and tickets are not that expensive either!
For the crew up to 11 our price is $900 plus tax and tip (total $1143) for transportation in our air-conditioned Mercedes van from Vancouver on your own time to and from Auburn WA. This translates to about $104 per person (@11pass).
Client is responsible for the tickets.
Sorry trip is restricted to holders of valid Canadian and US passports to reduce the delay on the border. Please use our contact form or telephone for booking or more information.
More info about show here:
http://www.motley.com/2012/03/motley-crue-in-auburn-wa-on-081812/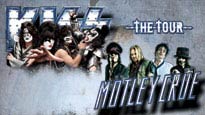 Sat, Aug 18, 2012 07:00 PM
Motley Crue "Live"
Taste of the show 2012 – amateur youtube sound is not great
And here some recent Kiss from the concert in Atlanta 2012
Book it early!